A strong online presence is so important
Would you like your company to be found everywhere online?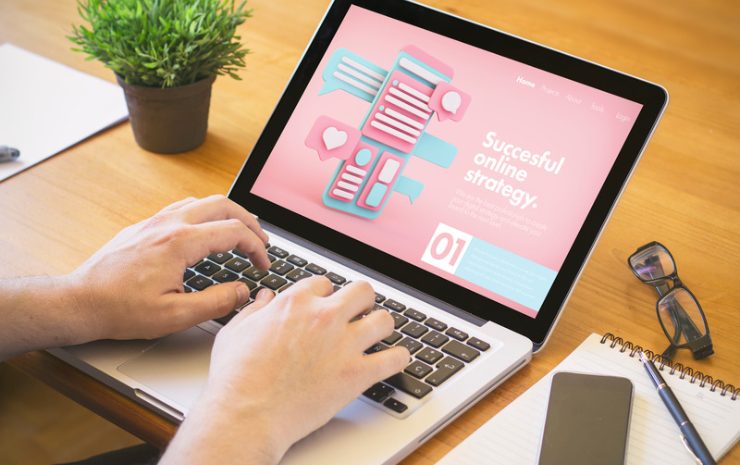 WHAT IS ONLINE MARKETING?
What is online marketing? It is your companies online presence.
Without a website, an Instagram page or a Tik Tok account, your company seems not to exist.
Without a good mailing list, you can't convert leads into customers.
So let us help you with creating a strategy, a strong and beautiful branding and great content
that tells the story of your company and adresses your target audience.
We offer the following marketing services:
Marketing consultancy
We create the 'The Online Marketing Framework', which consists of a marketing plan and execution strategy.
newsletters
Because a good database and effective mailing is indispensable to get sales.
social media strategy
How to be present on all channels in a professional and consistent way.
Search engine optimisation (SEO)
Be found organically by potential customers.
online adVERTISING
Adverts on Facebook/ Instagram or Google to be noticed by your target audience.
MARKETING CONSULTANCY
The Online Marketing Framework
What is it
The Online Marketing Framework is a business marketing plan. This is our consultancy service where we create the marketing plan based on your input. The framework we've developed is very detailed and the visual blueprint of your company.
What we'll do
• create the Brand Blueprint*
• create online marketing plan for 12 months
• strategy
• branding
• tips & tricks
• tools
• structure of the website
Included
•  4 sessions of 1,5 hours live or videocall
•  creation of the Brand Blueprint
• creation visuals & templates for online media
• marketing strategy for a year
• the building stones for the creation of the website
The Brand Blueprint
your company bible
What is it
The Brand Blueprint is a visual and concise document (PDF) which is a presentation of the entire corporate identity. Very profound and professional, the perfect guideline that everyone in the company should have at hand.
Beautifully designed document (40 pages)
• brand story
• brand colours & fonts
• customer avatar
• tone of voice for communication
• social media pillars
• etc …
OUR OTHER MARKETING SERVICES
Create a strong online presence
NEWSLETTERS
BUILD A STRONG DATABASE

This is what we do
We create opt-in fields on your website so you can collect email adresses.
We create templates in your brand identity so you can make beautiful and professional newsletters.
We give you professional advise on how to build up a mailing list, how to work with lead magnets, mailing strategy, etc.
Once this is set-up, you can:
create newsletters
send out newsletters to different contact lists
manage contact lists
create automations and forms
SOCIAL MEDIA STRATEGY
BE PRESENT ON ALL PLATFORMS

This is what we do
We look at your company identity
We create content pillars
We align your social media channels' bio's
We create a colour pallette
We create 6 to 9 visuals as templates in your brand identity
We create a strategy for 3 months
We give you professional advise on how to execute the strategy and create and plan content
Once this is set-up, you can:
create content on brand and on strategy for a longer period of time
plan content on all social media channels
improve the online presence of your company online
SEO (Search Engine Optimisation)
BE FOUND ONLINE ORGANICALLY

This is what we do
We do an audit of your website
We do keyword research
We give you a report with suggestions on what and how the SEO on the website can be improved
We teach you how to improve the SEO on your website using an SEO plugin
We advise you on how to improve SEO on social media
We teach you how to improve SEO using all Google tools (Google Business account, Google Analytics4)
Once this is set-up, you can:
create SEO blog posts
make the texts on your website SEO-proof
make your social media content SEO-proof
update your Google Business profile
understand and use your Google Analytics statistics
ONLINE ADVERTISING
BE SHOWN TO YOUR TARGET AUDIENCE

This is what we do
We create a strategy depending on your goal
We set up the Google Ad account or Facebook Business and Ad account
We link it with your website
We create a Facebook pixel in case of Facebook/Instagram ads
We teach you how to create content for the ad
We create an Ad on Google or on Facebook/Instagram
We teach you where to find and how to interpret the statistics (Google Analytics4 and Facebook/Instagram statistics)
We teach you how to optimize the ad week after week
Once this is set-up, you can:
create content for ads on Google and on Facebook/Instagram
create visuals for your ads
create ads for Google and Facebook/Instagram
understand and use the Google Analytics and Facebook/Instagram statistics
optimize and follow-up the ad depending on how it's going
Natalie from CreArte Studio is the first (web) designer and marketeer I have encountered who:
1. Marries webdesign with commercial thinking: I now have a good looking site that actually compels my visitors and not merely entertains them.
2. Carries my suggestions towards changes through within a minimum of time. Businesses are living things and, as they grow, things change. These changes have to be communicated to your (potential) clients. Consequently, your website has to be a living thing. At MirArte, they keep up with the communication of the changes in my business.
3. Runs a lean – and therefore affordable – and highly professional operation. Kitchen-table webdesigners have disappointed me with their quality. Flash looking agencies have overcharged me. All I can say is that Natalie consistantly under-promises and over-delivers.
CreArte Studio is the right choice to handle the marketing of your business.
The footer of our website says 'Made with Love by CreArte Studio', and this can be taken literally.
Our website and collaboration is based on the professional advice and expertise of Natalie (CreArte Studio), who always throws her heart and soul into new assignments.
Besides designing our logo and website, she is also very active in thinking along with the strategy and mission of our organisation. A partnership with CreArte Studio therefore includes a total package of services, but also a fresh, innovative view on the future of our companies.
Would you like to have a strong online presence and marketing strategy as well?
Contact us!
Webdesign • Online Marketing • Consultancy